Had a solid night sleep last night, and it was HARD to get up. My feet are beat!

This morning on the way to the Expo, I stopped at B&H. Yes, THE B&H. It's like a Mecca for any photographer.


It was how I envision Heaven.
I arrived at the Expo early, and met a few vendors. I also was able to meet Elizabeth Greenburg, the director of the Maine Photographic Workshops. We had communicated over e-mail before, so it was nice to put a face to her name. I went to a Photoshop lecture, and then to a roundtable discussion about the images of 9/11.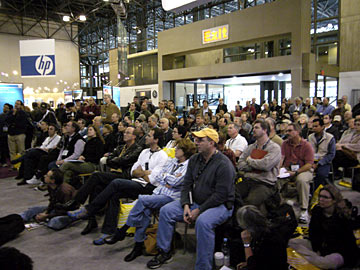 Adobe Lectures
I ran back to my hotel room, but before that I stopped by a buffet where you pay by the pound. Delicious.
There's sesame noodles and
peanut chicken under the rice. Yummers.
I walked up through Times Square and stopped in on the New York Times. I wanted to meet Kathy Ryan, the senior photo editor who awarded me the GLA a few months ago, but she wasn't in. But Joanna Milter, who I worked with when I shot the Gay Fathering story for them, was there and she was kind enough to give me a quick tour of the Times photo department (it's 6 cubicles in a corner - real glamorous). She introduced me to many of the other photo editors and photographer Justine Kurland who was shooting a story for them. Thanks Joanna.
One more important New York stop to make: Rupert Jee at the Hello Deli.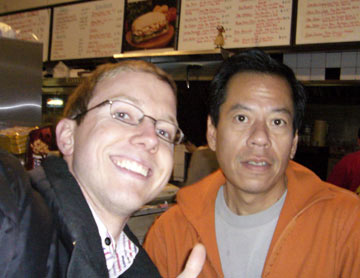 He's just as awkward in person as he is on Letterman. But him and his wife are really sweet, and they make a mean Shaffer sandwich: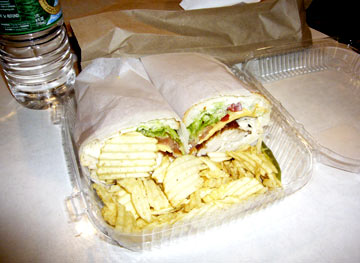 After filling up, I headed back to the Expo for a lecture by Martin Parr. I never pictured him to look so normal: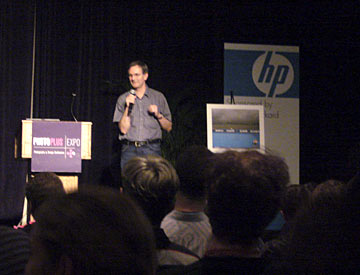 I had some extra time, so I walked to the Empire State Building and had a look from the top.