Today started with a bang. Literally.

I had another great night sleep, but I woke up with stomach pains from all the food I ingested yesterday. Somehow, the mix of an omelet, Chinese food by the pound, 4 Dunkin Donuts (Four? What the hell was I thinking?!), pizza, and a sandwich from the Hello Deli did not sit well with my lower intestine. You know what they say: What goes in, must come out.

Well, I got over it and headed to the Expo. I got to the photo expo too early, so I walked through the marathon expo that was happening in the other half of the convention center. Now I was picking up free running crap to pile on top of my free photo crap. But the good thing was I was handed 3 Snickers Marathon bars from one booth. One of those made a good breakfast that sat well with my stomach. They're like Power Bars with that slight hog-feed-like taste. For some reason, I've always enjoyed that taste. Maybe it's that it brings me back to my good-ole, farm-raised days. Now, I've never tried pig feed, so don't even ask. Dog food: yes. Cat food: sure. But you've got to draw the line somewhere.

I also had time to pick up a New York Post and did my first ever Sudoku puzzle.


After temporarily leaving the Expo, I grabbed a quick pretzel on the street. The bottom was rock hard, so I only nibbled off the top.
OK, back on track. I headed back to the convention center and had a portfolio review by Suzanne Sease , which was very helpful. Thanks Suzanne. Then I was able to meet photographer Colin Finlay who had been part of a roundtable discussion that I attended on Thursday. I attended a few more small lectures and talked to a few more people/vendors. The expo closed late afternoon, and I walked back home. I had time to quickly sprint to the International Center of Photography near Times Square. (Note: have you ever tried to sprint down 7th Street toward Times Square on a Saturday evening? CRAZINESS!) The woman at the desk thought I was a student, so what the hey - I saved 2 bucks.
After that, I found some advertising space for sale in Times Square (look to the right side of the image):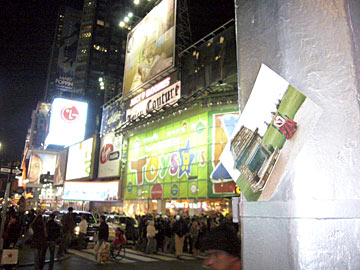 This space cost me $37,000
for 19 seconds of publicity
So I leave NY tomorrow early afternoon. My stay has been nice and productive, and I'm ready to head back to the Cities. However, I need to cross the marathon route by taxi tomorrow, and I'm afraid that it will take FOREVER. We'll see. Thanks NY City.